Book the Desert Swing Orchestra for your next event! Call us at (520) 485-9687 or e-mail us at bookings@desertswing.com.





Welcome to DesertSwing.com. Add a touch of class to your next event — whether it be a birthday, wedding, anniversary, or an office party — with the smooth jazz sounds of Desert Swing. With musicians from all over southeastern Arizona, Desert Swing has entertained thousands in Cochise County and the surrounding area with performances in Sierra Vista, Bisbee, Tombstone, Tucson, Marana, Sonoita, Patagonia, Douglas, Sunsites, and even as far east as Rodeo, New Mexico.

Started in 1985 by Joe Anton (drummer and band manager), Desert Swing is proud to help keep the Swing movement alive and kicking. Audiences varying in age from 2 to 92 (to borrow a little phrase from Mel Torme) have enjoyed the Big Band sound of Desert Swing, and the Desert Swing musicians enjoy sharing the fantastic sounds of the Swing era with them.

Latest News
15 April, 2017
- We have a new phone number and a new email address! We are in the process of upgrading our digital presence and have added email to our servers. If you'd like to see about hiring us for your event, or if you have any questions at all, please send us a message at
bookings@desertswing.com
or call us at (520) 485-9MUS (that's 485-9687). Our new general manager, trombonist Ray Caldwell, will gladly help you! Also, be sure to catch our live feeds on our
Facebook page
and watch some other fun videos on our
YouTube channel
!
6 January, 2017
- In honor of the twelfth day of Christmas, here's our last holiday post for this season — a Desert Swing Mannequin Challenge!
24 April, 2016
- Come join us this Saturday, April 30, at Veterans Memorial Park in Sierra Vista, AZ for
Relay For Life
! We'll be playing all afternoon, starting at 1pm! We have hours of music ready to share with all of you and will be featuring our 18-member big band, our octet (with special guest Jen Charest), and our 5-piece combo. All in one afternoon! Don't miss it!
25 December, 2015
- Merry Christmas, everyone! We had so much fun playing for the shopping masses in the Mall at Sierra Vista and all you wonderful folks that joined us for dinner and dancing at the
Ethel Berger Center
, pics will be posted soon here and on our
Facebook page
!
14 September, 2015
- Moisés Paiewonsky came down from the The University of Arizona to help us out at rehearsal tonight. Desert Swing was privileged to be on the receiving end of the technical skill and insight he provided. A big Desert Swing thanks goes to you, Moisés!
16 August, 2015
- The 70th anniversary of the end of World War II is approaching, and Desert Swing was happy for the invitation to participate in the wonderful ceremonies and events planned in Sierra Community. We were privileged to play at VFW Post 9972 for the Spirit of '45 Luncheon!
8 August, 2015
- It's always great to see so many great dancers come out and have fun at the
Ethel Berger Center
dinner dances! Thanks to the city of Sierra Vista for all you do!
7 April, 2015
- Sierra Vista does it again with the opening of our new
Canyon Vista Medical Center
! Desert Swing was privileged to play for the VIP Grand Opening party!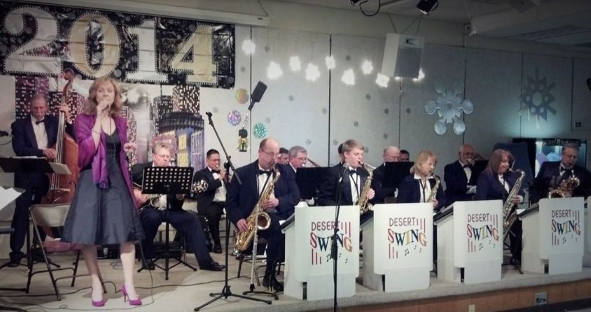 1 January, 2015
- It was New Year's Eve and the Desert Swing Combo was very pleased to play at
Mountain View Gardens
for a very appreciative crowd. A good time was had by all! Check out the photos
here
!
19 June, 2014
- Desert Swing partnered with the Sierra Vista Parks and Leisure Services for a free concert in Veterans Memorial Park. It was quite a turn-out! See for yourself
right here
!
8 March, 2014
- Members of your beloved Desert Swing played a tribute to Frank Sinatra tonight with the amazing
Sierra Vista Symphony
Orchestra! Wow, what a show. Thanks to Roger Bayes for having us and thanks to Jack Harman for the incredible vocal performance!
18 February, 2014
- The Tucson diocese annual Bishop's Appeal dinner was held at the Sierra Vista Knights of Columbus and the Desert Swing Combo was pleased to provide some music for the event. Great food, great folks, and a great time.
Photos
by
Lily & Daisy Photography
.
1 January, 2014
- What a great show last night! The SKP Saguaro Co-op in Benson, Arizona had us play in their gigantic club house for all of their residents and guests! Vocalist Jen Charest did a fantastic job, as usual!
1 December, 2013
- The Mall at Sierra Vista hosted Desert Swing for their annual Christmas festivities, and we were glad to provide a slew of swingin' arrangements to help ring in the holiday season. Singers Jack Harman and Jen Charest were wonderful and it was great to play for such an appreciative audience! Pics of us and them are
right here!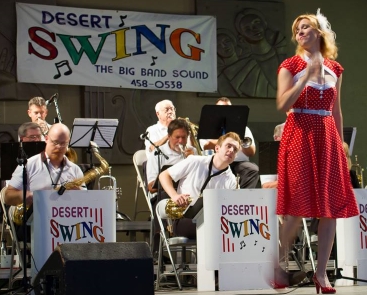 20 July, 2013
- The gathering rain clouds didn't deter Desert Swing and their dedicated and wonderful fans from Saturday July 20th! The city of Sierra Vista graciously invited us to play in Veterans Memorial Park. Desert Swing played and the rain stayed away! Pics
here
!
18 January, 2013
- Join us tonight at the Buena Performing Arts Center for a special performance with the Sierra Vista Symphony! Show starts at 7pm, tickets are $25 with special pricing for families with children ($30), high school students ($10), and children under 14 (Free!). This will be a fantastic show featuring over 70 very talented local musicians. Really, if you've never seen your local Symphony you should! They really are quite impressive!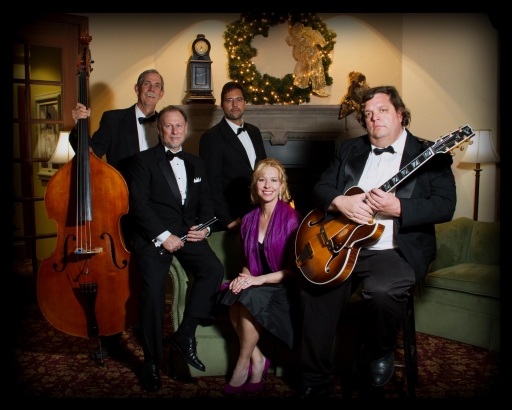 7 December, 2012
- Thanks to the
Tucson Country Club
for inviting us into your wonderful palace tonight! Rich Holzer sat in for our regular drummer, Dave Wallace, and singer Jen Charest debuted! What a beautiful voice!
8 September, 2012
- David Healy, working in his own Sierra Vista observatory, discovered and named main-belt asteroid 172525 Adamblock after
Adam Block
, a talented astrophotographer. Healy, who specialized in photographing galaxies, also discovered main-belt asteroid 72633 Randygroth, naming it after Mr. Randy Groth himself! The late David Healy discovered the asteroid on March 22, 2001 in his backyard observatory, affectionately called the Junk Bond Observatory (JBO). Of the 400+ asteroids discovered at the JBO, 12 have been assigned permanent numbers by the Minor Planet center and 17 have been named. Look through the same telescope Healy used at the University of Arizona South's
Dine Under the Stars
fundraiser while enjoying food from La Casita restaurant (and while listening to the swingin' sounds of Desert Swing).
27 September, 2010
- Looking forward to playing in the city park tomorrow for the
Give Us Liberty Tea Party
. The
Cochise County Tea Party
was kind enough to ask us to play, and we were happy to oblige. Hopefully they have enough tea to go around.

12 February, 2010
- We had a great time at the Valentine Dinner and Dance celebration out at the Knights of Columbus Hall. There was great food and lots of dancing. A special thanks to Dave Resto from
The Thunder Mountain Band
- he did a fantastic job for us on drums. Dave also joined us at rehearsal where I recorded him playing
Only You
and
That Old Black Magic
. You can hear him in the clips I posted of our singer, Vicki Sutera, on the
download page
.
8 February, 2010
- I've been playing with a little Belkin recorder I bought for my iPod Nano and actually got some great recordings at rehearsal today. Russ and I are talking about devoting part of a rehearsal to doing some multi-track recording (which we'll probably do soon), but for now check out some new clips of Vicki on the
download page
.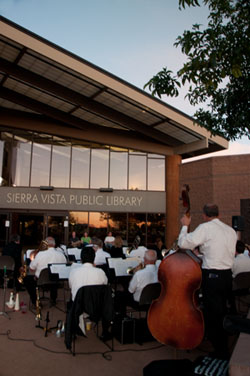 22 April, 2009
- Today we performed at our
home town
Public Library
for their 50th anniversary celebration. It was a great gig with a good turn-out. And they served cookies (my favorite part). I loved the oatmeal raisin. Yum. Anyway, our director, Russ Robinson (pictured below on the right), was rendered slightly dumbstruck when our singer, Vicki Sutera, was talking about one of the tunes we recently added to our repertoire, "Mr. Zoot Suit". She was mentioning the World War II Zoot Suit Riots and talking about how the amount of material required for a zoot suit was considered wasteful when she said, "wearing a zoot suit was a sign of a rebel." She quickly added, "You should get one, Russ." Nice one, Vicki.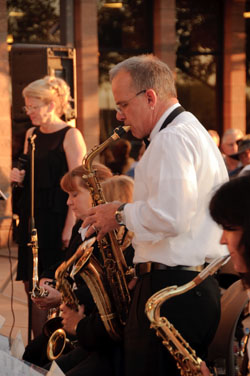 7 March, 2009
- The residents and guests at the
Cochise Terrace RV Resort
got quite a surprise today. The community manager wanted to do something special and, instead of just getting a small group of talented musicians together for a jam session, decided to hire a big band to swing the afternoon away. The audience started to gather while we were setting up and were wondering out loud if all the people in dress shirts and bow ties were going to serve them lunch or something! Turned out those people were us, the Desert Swing Big Band!
28 January, 2007
- A huge thank you to the
Sierra Vista Arts and Humanities Commission
for awarding us the Organization of the Year for 2006. We feel honored to be recognized, especially by such a prestigious group. Band manager Joe Anton accepted the award today from former mayor Thomas Hessler. Thanks also to our new mayor Bob Strain, and to Lloyd DuVall for his kind introduction. New gigs have been added to our
schedule
and we'd love everybody to come see us! The
Turqoise Valley Golf & RV Park
in Naco serves up a great dinner and the price is very reasonable. Be sure to check out our new
Photos
section!
10 September, 2006
- We'd like to thank the
University of Arizona South
and the
Huachuca Astronomy Club
for inviting us to play for their "Dine Under the Stars" charity fundraiser. It was a great night for stargazing and enjoying the delectable food provided by local vendors. We even have some wonderful
photos
.
4 September, 2006
- Four new charity events have been added to our schedule! See our
schedule page
for all the details and be sure to check out the
photos
from our Huachuca City gig.
1 April, 2006
- After being postponed due to bad weather, we were finally able to play for Huachuca City. The high winds made things challenging, but we had a great time. Check out the wind-swept hair in these
photos
.
24 December, 2005
- Merry Christmas! A couple of pictures have been added to the slide show at the top of this page from the
Sierra Vista Symphony Orchestra
fundraiser dinner in November. It was a great show, we had a wonderful time, and dedicated singer Deborah Dover performed even though she had just had surgery! We're all happy to have her around. Next week we'll be doing a New Year's Eve show for the Far Horizon Tucson Village complete with Christmas Carols (since New Year's Eve is the sixth day of Christmas).
15 May, 2005
- Thanks to the city of Douglas for allowing us the privilege of providing entertainment for their 100th birthday party. The Douglas fans are always so very appreciative, and we enjoy bringing our music to those who truly enjoy the Jazz and Swing experience. The turn-out was good, the kids had a great time, and the trees provided plenty of shade on this beautiful Douglas day. We always enjoy playing in Douglas because your own trumpeter / flügelhornist / cowboy / photographer
Jay Dusard
always joins in the fun. Thanks once again, Jay, for honoring us with your warm, signature sound and tasteful solos.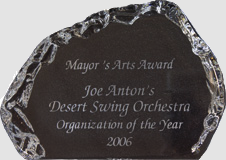 9 December, 2004
- Shout-outs to all of our new friends at Tombstone High School. You all ROCK, er... uh, SWING! Although the original, outdoor venue was quite drenched by an uncooperative Mother Nature, a great time was still had by all after we regrouped in an alternate location. The audience was great, the dancing was wonderful, and Desert Swing had a fantastic time playing for the students and teachers. We hope your fund-raiser was a success, and we hope to play for you again soon.
Thanks again to the Sierra Vista Symphony Orchestra for allowing us to entertain them at their annual fund-raiser and dinner. Many thanks for the compliments — they mean a great deal to us coming from such fine and outstanding musicians such as yourselves. And may we compliment you on your fine dancing! It's always a pleasure to present a show to such an appreciative audience.
15 October, 2004
- Desert Swing would like to thank the Southeastern Arizona Association of Realtors for allowing us to perform for thier "Roaring 20's" bash at the Windemere Hotel in Sierra Vista, Arizona. Good food, good fun, and fantastic costumes made for a night to remember.
9 September, 2004
- A Sierra Vista Herald newspaper article entitled "Quality of life is city's goal" features a photograph of Desert Swing pianist Dave Davidson playing during a gig sponsored by the Sierra Vista Parks and Leisure Services. The photo was taken during one of the Thursday night performances Sierra Vista hosts over the summer. Bands donate their time for these shows, and the audiences are always very appreciative. Desert Swing performed twice last summer with an audience turn-out of around 200 people attending each show.